Quote
streamlinehd
WARNING: This Is An Advanced Guide.... If you don't understand everything here, I recommend you do not proceed as this is advanced brick repair and is not a suitable option for most bricks. Please consider ALL other options before continuing with this method.
Chapter 1 - What You Should Know Before You Start
Nand flashing isn't for everyone
and there are many factors you should consider before attempting to follow this guide. First and foremost, you must have excellent mechanical and problem solving skills. If you've never done any type of electronics repair work before, this is
not
a good place to start. Secondly, doing this for the repair of a single console isn't at all practical. The costs involved in acquiring the required tools and equipment to successfully complete this task can easily exceed the cost of a brand new console. Lastly, you should consider the fact that the vast majority of people who attempt to flash their Wii fail. This is my one and only warning and I strongly suggest you read this guide thoroughly and think this all over before continuing.
I'm writing this guide with hopes of helping more people to succeed as a lot of the fail has to do with the information available. Some guides on this topic are even setup for failure however most people place self blame and wind up giving up. As mentioned in the warning above, this is advanced brick repair and I've done my best to keep the process as simple as possible in this step by step tutorial. If you have a question not covered or get stuck on a step, post your question or issue in this guide. Please do not open separate threads or PM me as this won't help other members having a similar problem.
[SPOILER="FAQ"]
Q: Who should follow this guide?A:
This guide can be used to repair all software related bricks however it's strongly suggested that you only attempt this as a last resort to repair your Wii. If your Wii is bricked, you should post a thread in the bricked section[ of the site before continuing with this tutorial. Most bricks can be repaired by using other methods and either myself or others can tell you what those options are.
Q: What types of bricks are commonly repaired using this method?A:
Full bricks without boot2 Bootmii, Low-Level Bricks, and in certain circumstances Semi-Bricks. (If Bootmii, Priiloader, Homebrew Channel and game exploits are inaccessible). [/SPOILER]
What you need to know About Boot1 and Boot2 before you start
[*]Boot1a, boot1b = Boot2 Bootmii Compatible (Bootmii ARM can be injected into boot2)
[*]Boot1c, boot1d = Not Boot2 Bootmii Compatible (You will need a NAND backup or keys that was created with Bootmii).
[*]Boot2 can not be downgraded but can be updated.
If your Wii is boot2 Bootmii compatible
[*]You will need the boot blocks from a donor NAND with the Bootmii ARM code injected into boot2. If you don't have a donor you can use my Boot Patcher program to generate the boot blocks.
[*]If you aren't sure if your Wii is boot2 compatible you can check your serial number here
If your Wii is not boot2 Bootmii compatible you will need:
[*](a.) working nand backup from the bricked Wii
[*](b.) donor nand backup from another Wii and the keys from your bricked Wii.
NOTE:

If you don't know what version of Boot1 is installed on your Wii you can try using WiiNand v0.2 to detect your boot1 version. For some reason WiiNand can't always detect the boot1 version and unfortunately there's no other program that will do this ATM.

EDIT:

New

WiiFlash Toolz v0.0.0.1

will detect all boot1 and boot2 versions. If you know how to use a hex editor you can also compare the boot1 blocks from a known nand to figure out what boot version you have.

Chapter 2 - Getting Started NAND Flashing Tutorial

Step 1 – Acquiring the required tools/software

You will quickly find that this type of work is a dying trade and gathering all the required tools and equipment is not such an easy task. Here's a complete list of the tools/equipment and software you will need before you continue. I recommend downloading all the software and putting it in an easily accessible folder on your computer.

[SPOILER="Password for Downloads"]

The password for all downloads is:[/SPOILER]

1. Infectus Programmer Software v3.9.9.0

2. Xavbox Software v1.0.0.7

3. Libusb devel filter 1.2.2.0

4. Hex Editor (I use Hex editor Neo)

5. WiiFlash Toolz v0.2

[SPOILER="Tools & Equipment"]1. Infectus or Infectus2 Modchip

2. TSOP48 Programmer Adapter

3. Hot Air SMD Rework Station

4. Multimeter with Continuity Testing

5. 30-AWG wire or serial cable wire will work as well

6. Good Soldering Iron (with temperature selection dial recommended)

7. Fine Point Soldering Tip (0.5MM)

8. Bevel or Hoof Soldering Tip (Small 3.3MM)

9. No Clean Liquid Flux (Kester 951)

10. Eye Dropper

11. Phillips Precision Screwdriver

12. Small Tri-wing Screwdriver

13. Fiberglass Pen

14. Desoldering Braid (Wick)

15. Magnifying Glass

16. Ultra Fine Solder (.010 diameter)

17. Tweezers

18. isopropyl alcohol

19. Bricked Wii[/SPOILER]



Step 2 – Putting Infectus Into NAND Programming Mode



Note: When you first connect Infectus to your computer and open the Infectus Programmer Software you may be asked to perform an update. You should accept this update and wait for it to complete as you won't be able to continue until you do. Don't worry if you don't receive a message saying the update is complete because the update will start over again if it doesn't complete properly.

1. Download and extract the Infectus Programmer Software v3.9.9.0 to a convenient location on your computer.

2. Connect the Infectus to the USB programmer and plug it into your computer. The new device detection wizard should open. Choose to browse for device software and install the Infectus drivers manually from the folder you extracted them to (e.g. C:\InfectusProgrammer-3.9.9.0\USB-Drivers3.1).

3. Open the Infectus Programmer software and you should see a message at the bottom which says Board: Infectus 1/2. Select the menu option Actel Firmware and select NAND programmer. Then select program located at the bottom of the same drop down menu.

4. The software will begin programming the Infectus into NAND programming mode. Wait for this process to complete and then close the Infectus software.








Step 3 – Remove Infectus Drivers and Install Xavbox




1. Download and extract the Xavbox Software v1.0.0.7 to a convenient location on your computer.

2. Launch the Setup Wizard and follow instruction to install Xavbox to your computer.

3. Remove the Infectus drivers by locating your device manager, right clicking on Infectus device and choosing uninstall (see image below). A dialog box will appear to confirm you want to delete the software, select the box that says delete the driver software for this device and click OK.




4. Unplug the Infectus from your computer and plug it back in. Go back to Device Manager, locate USB API, right click on it and choose update driver software. Choose to brows your computer for the drivers and navigate to the location you extracted them to (e.g. C:\Xavbox_v1.0.0.7\Drivers).

5. Download LibUSB-Win32 Setup Wizard and install the software. When the software finishes installing, choose to launch the filter installer wizard and click finish.

6. Choose to install a device filter and click next. Locate USB Composite Device with pid: 4f11, if you see multiple devices with the same ID, look for the one that says Standard USB Host Controller select it and click Install.

7. Xavbox is now ready to work properly with your Infectus device.




Step 4 – Connecting Infectus to Your NAND



There are three methods to connecting the Infectus to your NAND. These methods include; (1) on-board programming by soldering to the legs of the NAND, (2) on-board programming by soldering to the vais of the motherboard and (3) external programming via TSOP adapter. I recommend removing the NAND from the motherboard and programming it externally with a TSOP Adapter. I've personally found this the best way to program since it's a direct connection to the NAND which means the chances for data corruption are lessened. The other two methods are on board programming methods which requires pin-point soldering skills or making 18 very frustrating connections to the vias of the motherboard. I don't recommend using the on-board methods because they require above average soldering skills and you are much more likely to have data corruption using these methods. That being said, this guide will focus on the external programming method via TSOP adapter.

External Programming via TSOP48 Adapter

In order to connect Infectus to your NAND externally you will need to solder 19 wires from the Infectus to your TSOP48 adapter. This requires moderate soldering skills and the use of a continuity meter in order to ring out each pin of the adapter to the correct soldering points. Use the wiring diagrams below for reference.

NOTE: You will have to carefully remove your NAND from the motherboard using a Hot Air Rework station to complete this method. To do this properly, I recommend applying a few drops of no clean flux and heating each side of the NAND for about 30-45 seconds while lightly prying the chip away from the motherboard. You should use the temperature and fan speed settings that best suit your Hot Air station for proper SMD removal.

[SPOILER="Programming The NAND Externally Wiring Diagrams (Recommended Method)"]
Big Thanks to Krafter for the above diagram!


Your end result should look something like this (I know it ain't pretty but it works :)).


[/SPOILER]

[SPOILER="Programming The NAND On-Board Wiring Diagrams (Not Recommended)"][SPOILER="Connecting Infectus to NAND On-Board Method #1 (Not Recommended)"]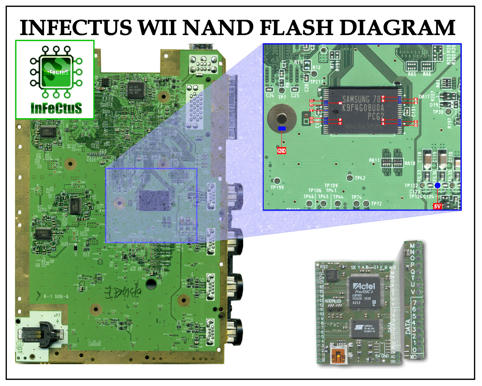 Note: If you are programming on board you will have to short the data 0 wire from the nand to ground for a second upon powering up the Wii. After the short is made you can reconnect the data wire back to the Infectus and begin programming.

[/SPOILER]

[SPOILER="Connecting Infectus to Vais On-Board Method #2 (Not Recommended)"]




Note: If you are programming on board you will have to short the data 0 wire from the nand to ground for a second upon powering up the Wii. After the short is made you can reconnect the data wire back to the Infectus and begin programming.


[/SPOILER][/SPOILER]




Step 5 – Testing Read/Write Capabilities



1. With Infectus connected to your computer open up Xavbox and choose Detect USB, then select Open. Your screen should look like this:




2. Press Ident and the Blocs, Pages, Bytes and Spare boxes will automatically populate with the correct information. Your screen should now look like this: (If you receive any errors at this point see troubleshooting)




3. If you haven't received any errors to this point, congratulations you made all your connections properly and Xavbox is ready to read your NAND. Now press Destination and set a destination path for your first read/write test and name the file flash.bin (e.g. C:\User\desktop\flash.bin)

4. Set the parameters to start at block 4080 and end at block 4095 and then press read. This will read blocks 4080-4095 of the NAND and write them to the file specified.

5. Write blocks 4080-4095 back to the NAND by putting the file you just made (flash.bin) in the Source box and setting the parmaters to start at block 4080 and end at 4095. Also select the relative offset checkbox.

6. Now choose the Update and Compare write option and press Write. If all the blocks write to the NAND successfully without a compare error, you are good to go and this test was successful. If you do have a compare error and the write fails, see the troubleshooting section of this guide and do not continue!!.

IMPORTANT: A different block message (e.g. block 1 different) in the results window is not a compare error. A compare error will end the writing process at the block that didn't write/compare properly.




Step 6 – Flashing The NAND




A.) Flashing Boot2 With Bootmii ARM

1. First make a full dump of the NAND by selecting a destination path and setting the parameters to start at block 0 and end at block 4095. Choose to read those blocks and wait for this step to complete. Please note that this process will take a while to finish.

2. Make a copy of the full NAND dump and put the original file in a folder not to be touched unless needed. This will serve as a backup just in case you make any mistakes when writing to the NAND.

3. Determine Which version of Boot1 is on the NAND by opening the copy of your full dump with WiiFlash Toolz. You can also open the dump with a hex editor and check the value of offset 40 to determine the boot1 version: (see picture below)

@ Offset 40 a value of 99 = Boot1a, c1 = boot1b, fc= boot1c, and 48 = boot1d
The example below shows that the NAND has boot1b installed.




4. Get a donor NAND dump with Bootmii injected into boot2 and use WiiFlash Toolz to extract the boot blocks. Keep in mind that the boot1 version from the donor NAND must match the boot1 version of the target NAND and boot2 can match the target NAND or can be upgraded to boot2v4.

5. In Xavbox load the boot blocks you just generated with WiiFlash Toolz to the source input and then set the parameters to start at block 0 and end at block 7.

6. Choose Update and Compare and then press the Write button. This will update/compare the boot blocks and inject Bootmii into boot2 (If you receive a compare error see the troubleshooting section of this guide).




7. The NAND now has Bootmii flashed into boot2 and is ready to refit to the motherboard.


B.) Flashing Backup NAND - Non-boot2 Compatible Consoles


1. In Xavbox load your Bootmii backup (nand.bin) to the source input and then set the parameters to start at block 0 and end at block 4095.

2. Choose Update and Compare and then press the Write button. This will update/compare any different blocks on the NAND with the data from your backup. This process can take a quite a while to complete (If you receive a compare error see the troubleshooting section of this guide).

3. The NAND has now been flashed with your working backup and is ready to refit to the motherboard.


C.) Flashing Donor NAND - Must have keys from bricked Wii


1. Follow the Betwiin Guide to encrypt the donor NAND with the bricked Wii's Keys and then continue to follow this guide. If you have a question on how to use Betwiin, please post in the guide and do not post those questions here.

2. In Xavbox load your Bootmii backup (nand.bin) to the source input and then set the parameters to start at block 0 and end at block 4095.

3. Choose Update and Compare and then press the Write button. This will update/compare any different blocks on the NAND with the data from your backup. This process can take a quite a while to complete (If you receive a compare error see the troubleshooting section of this guide).

4. The NAND has now been flashed with your working backup and is ready to refit to the motherboard.




Step 7 – Refitting NAND To Motherboard




1. Clean the NAND solder pads on the motherboard with de-soldering braid (wick) so that you have a clean and smooth surface to solder to.

2. Follow this video tutorial to refit the NAND to the motherboard.

[video=youtube;YzI31gfCjJE]http://www.youtube.com/watch?v=YzI31gfCjJE[/video]




Troubleshooting



[SPOILER="Troubleshooting"]

I get an error in Xavbox when I try to detect USB.


Solution: Check to make sure the Xavbox drivers and Libusb filters are installed properly.



I'm getting a GEM CHIP V10 - Error during infectus reset ! error in Xavbox


Solution: This means the programmer can't see the NAND chip and you should make sure it's seated in the TSOP Adapter properly. If the NAND is seated correctly, try removing it from the adapter and use a fiberglass pen to gently remove any solder or flux built up on the legs of the chip. If the problem still occurs, you will need to check your wiring.



Fabricant inconnu / Type inconnu ! error Please Help!


Solution #1: This error means the NAND is recognized by Infectus however it can't read it properly. Check to make sure the NAND is in the adapter properly, inserting the NAND backwards can cause this issue.

Solution #2: Try removing the NAND from the adapter and use a fiberglass pen to gently remove any solder or flux built up on the legs of the chip. If the problem still occurs, you will need to check your wiring.



The data being written to my NAND is all FB or FF when I look at each byte with a hex editor.


Solution: This is likely happening because you have an issue with your voltage or ground wires. Check to make sure these wires terminate from the Infectus to the TSOP adapter correctly. Also make sure the the legs of the NAND are clean and making a good connection. (note: built up flux on the legs of the nand can cause a bad connection.)



Xavbox all of a sudden stopped recognizing my programmer?


Solution: Shut down Xavbox and unplug Infectus from your computer. Then plug your Infectus back in and reopen Xavebox.



I flashed my NAND and refit the chip to the motherboard but I still get a black screen when I power on my console.


Solution: Connect your drive light to the motherboard and see if the light stays solid when powering on your Wii. If the drive light stays solid you need to make sure the NAND was refit properly. Make sure the NAND lines up with the solder pads and that you don't have any bridges. If the NAND was fit to the board properly and still doesn't work, you will need to remove the NAND and check your boot blocks (blocks 0-7).[/SPOILER]


[SPOILER="Credits"]Special thanks to:

Krafter for his NAND wiring diagram and all his extra help with editing this guide.
Bad_Ad84 for his expertise and miscellaneous help.
DeadlyFoez and evans112682 for providing the vias diagrams.
Team Twiizers and Bushing for making this all possible.[/SPOILER]