Wii Turrican II: The Final Fight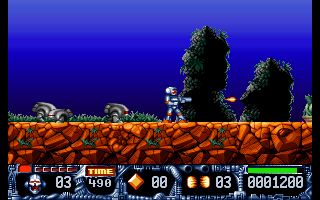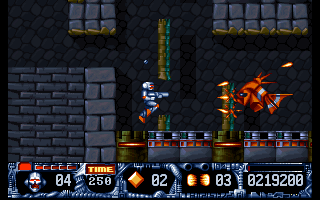 I've (again) used DOSBox-Wii and configured and compiled it to work and autoboot the classic Amiga/PC game 'Turrican II: The Final Fight'.
Turrican II: The Final Fight is a platformer/shooter as typically seen on consoles, but originally designed for home computers from the ground up. This version is the original PC game running via DOSBox-wii (1.5) which simply autoboots into the game and has the controls mapped and binded so that you no longer need to use a usb keyboard.
To run simply extract and place the Turrican 2 folder into the apps folder on the wii and then load as normal via the homebrew channel.
Controls:
Return (to start game): +
Movements: D-pad
Fire Button: 1
Jump: 2 or up on the d-pad
Laser Barriers: A or B
Whirling Gyroscope: Down on d-pad + A or B
Special Attack: 1 + A or B
Quit: -
Credits:
Coding (DOSBox Wii): Thanks to Dborth and Carl Kenner for porting DOSBox for the Wii.
Wii contribution (the easy bit): Baboon for editing the mapper to get the joystick working on the Wiimote, creating the HBC icon and for making the game work (which was a bugger!) and autoboot on the Wii via the config file etc.
Turrican II original credits:
Factor 5
Turrican II: The Final Fight is officially free Abandonware so there should be no problem sharing it.
Download:[Uh, no - SifJar]
Edited 1 time(s). Last edit at 02/10/2011 11:05PM by SifJar.